There will be a time when you need a heating system replacement in Murfreesboro, and it is important to understand the process of installation. Your heating experts will go through several steps to ensure your new heating system is installed correctly and safely. These steps will include replacing worn out parts, running diagnostics, and giving you an in-depth tutorial of the new system. Here is a better look at what you can expect during a heating installation :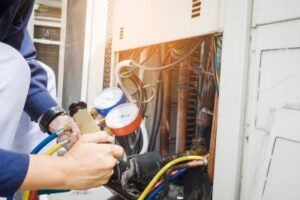 Replace Worn Parts
Installing a new heating system also means replacing old or worn parts of your entire HVAC system. For example, a new heat pump will likely require a new refrigerant line system to ensure it is free of any acid buildup and leaks. You may require a new thermostat that can better handle your updated system. Your heating expert will also inspect other areas of your HVAC system, such as ductwork, vents, and pipes, to ensure they are safe and free of defects.
Run Diagnostics
Your heating experts will be running multiple diagnostics throughout the heating installation. These diagnostics are performed to ensure that new parts are working correctly and that the installation was performed as instructed. Diagnostics will likely include testing the gas flow, flushing pipes, and making sure the thermostat and the heating system are connected and communicating properly.
Learn the New System
It is important that you understand your new heating system. Your heating installers should not leave your house until they have given you a thorough walkthrough of the unit, thermostat, and new parts. This walkthrough should also include different signs to watch in case the unit was installed incorrectly or it is faulty. Use this time to ask any questions or voice concerns over your new heating system. Your heating experts are there to help you fully understand the unit and how it works. If you have further questions after your installers leave, then do not hesitate to call your heating and air conditioning company for more information.