Murfreesboro HVAC Services
We Have More Than 20 Years of Experience!
Heating and air conditioning are perhaps the most comfortable parts about modern day living. When you have trouble with your heat or AC, it is best to partner with a local HVAC company that provides detail-oriented work at affordable rates.
At Quality Heating & Air LLC, we have more than 20 years of experience helping homeowners in Murfreesboro area get air conditioning repair, heating maintenance, and all types of HVAC services.
HVAC Business Got Featured on Forbes in 2018!

We are featured in Forbes Magazine in 2018 and if you want to learn how we use cutting-edge technology to improve our business and make your experience better, read Is Your Business Out Of Control?
To schedule an appointment with our team in Murfreesboro, TN, be sure to contact our office at (615) 895-8667.
Superior Heating and Air Conditioning Services
If you have an HVAC service issue, need an air conditioning replacement, HVAC installation, or any other issue with your central air conditioning, central heating of any sort, our HVAC installers at Quality Heating & Air LLC have the knowledge and experience to handle it. We have been in the business for more than a decade and have more than 20 years of experience. In addition, we are proud to have been voted the "Favorite Heating and Air Company of Rutherford County" for three years in a row by the Ruthie Awards. We get excellent reviews on Google, and we love helping our customers in Murfreesboro get the reliable services they need.
HVAC contractors who get the job done right
While there are many HVAC companies out there for you to choose from, we are confident we are the best one for you. You can rest assured knowing we have the expertise and the knowledge to provide the superior service you expect, from new heater replacement, residential air conditioning, to commercial heating and air conditioning maintenance services, we got you covered.
At Quality Heating & Air LLC, we set ourselves apart in the following ways:
We are locally owned and operated.
Our owner personally provides all estimates so the costs are well understood.
Our owner is a certified HVAC contractor, licensed electrician, and plumber.
We always strive to deliver the highest quality service, including energy-efficient heating.
Our owner has taught HVAC classes at Tennessee Technical College for many years.
We won't leave your home or business until you are fully satisfied.
Our Maintenance Saving Package makes our services even more affordable!
We'll handle all of your HVAC needs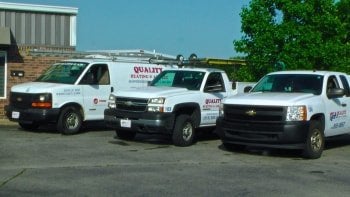 Quality Heating & Air LLC stands out from our competitors because we are a full-service residential and commercial HVAC company. We service all makes and models of HVAC units and our team is available for 24-hour emergency services. Our HVAC installers work hard to ensure your HVAC unit is always functional. For our customers' convenience, we provide a wide range of HVAC services, including:
Heating repairs and maintenance
No matter what issue you are facing, our HVAC contractors are only one phone call away and are always prepared to assist you. To retain the quality HVAC services you deserve, contact our office today at (615) 895-8667 to speak with an expert HVAC contractor.