There are certain qualities your air conditioning contractor should hold, such as having positive references and ample experience with heating and cooling systems in Murfreesboro. These qualities can help you determine which air conditioning contractor will do a better job and offer you a fair price. Continue reading for a better look at the important qualities to look for in an air conditioning contractor.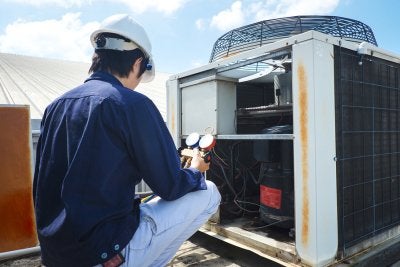 Professional Licenses
Any type of contractor should have a variety of professional licenses before working on key areas of your home. For example, your air conditioning contractor will be certified in HVAC services and hold the proper insurances to safely work inside your home. Many contractors will also have experience and certification in other home improvement areas, such as residential electricity and plumbing.
Positive References
Ask your intended contractor for at least 3 references that you can call for information. Ask each reference about their experience working with the contractor. They should be able to tell you about the quality of the air conditioning installation, the demeanor and professionalism of the contractor, and their overall perception of the company.
Ample Experience
It is vital that your cooling system be sized and installed correctly to ensure you receive the best deal and product. Choose a contractor who has an ample amount of experience and knowledge to help you choose the best system for your house and install it correctly. Look for an air conditioning company that has several years in business, and ask your individual contractor how long he or she has been installing cooling systems. This information will help you decide on the best contractor to install your system.
Fair Prices
Fair pricing is an important element of choosing the right air conditioning company. You may not receive the best product or service with an overpriced company, and you risk a bad job by choosing a low-priced company. Compare at least 3 companies and ask what you can receive for each possible price. Using the previous qualities, you can choose the right company with the fairest prices.