HVAC Maintenance Plans
Worry-Free HVAC Maintenance Package in Murfreesboro, TN
Once you have purchased a new HVAC system or gotten your existing HVAC system in good working order, the most important thing you can do is to keep it in good shape. Proper maintenance helps you stay comfortable year-round and avoid stressful break-downs and costly repairs like a central air conditioning replacement, a new heater replacement or another HVAC installation from an HVAC contractor. But, it can be difficult and stressful to stay on top of the maintenance schedule, which is why we offer these convenient maintenance plans.
For a little over ten dollars per month, you can enjoy our HVAC services to maintain and protect your furnace and air conditioner for greater efficiency and appliance longevity.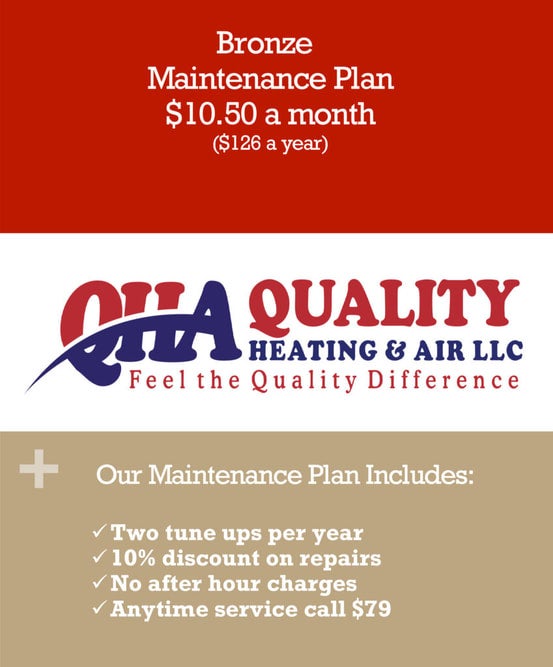 What to Expect During Seasonal Heating and AC Maintenance
When you enroll in the Maintenance Plan, you'll receive regular seasonal maintenance at no extra charge. During these HVAC maintenance visits, our technician will
Check and clean or replace your furnace filter if necessary.
Inspect your thermostat to ensure it is providing an accurate reading and communicating with your HVAC system properly.
Clean the interior and exterior components of your furnace and air conditioner and lubricate moving parts.
Check all electrical and mechanical parts for signs of damage or wear.
Examine your furnace's fuel intake lines and exhaust outlets.
Inspect and clean the condensate drain on your air conditioner to prevent clogs and mold growth.
Answer any questions you may have about home heating and cooling.
Want to learn more about Quality Heating & Air LLC's Maintenance Plan in Murfreesboro? Please call (615) 895-8667 for more information about heating and AC maintenance for your home today.
We also offer commercial air conditioning as well as commercial heating for your business.